I received this and thought it was significant enough to let you know. There's nothing for sale, possibly a genuine life-changing experience, see for yourself....
---
On June 18th, 2015 my friend and colleague Mike Seddon wrote saying that he'd been diagnosed with incurable, inoperable cancer.
He'd been told he has weeks to live.  That was just over two weeks ago.
When a friend shocks you with that kind of information, you don't know what to say.
You want to help.  And you offer, but really - what can you do?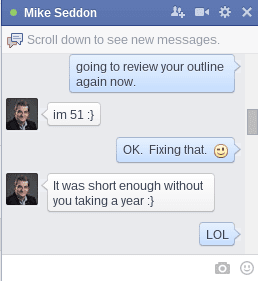 Then I had an idea.
When your life is suddenly cut short (he's only 50! correction: 51 and still has a strong sense of humour) there are so many things you thought you'd still get to do. So much impact you thought you'd still have.
And now...  nothing.
I realized that the only thing I can give to Mike is... another chance to give.
That's what Mike has always been about - giving to others.  Helping them with their businesses in the many ways he knows how.
And Mike is a thoughtful person. The situation he's suddenly found himself in gives you a different perspective on life and he now has a perspective that the rest of us really need to hear.
That's when I had an idea:  "Mike, how'd you like to give The Last Webinar? (please be patient, it may take a moment to load)
It will be an opportunity for you to share with me, your other friends and anyone wise enough to listen - the unique perspective you now have."
First Mike was quiet.  But over the next few days, the idea grew on him.
On Thursday July 2nd, he asked me to set up the details.  And because we don't know how much longer he'll be able to do something like this, we're doing it onTuesday, July 7th at 9:00 am eastern / 2:00 pm London.
Life is short.  Take a short break to join us on this - The Last(ing) Webinar with Mike Seddon.
It just might affect what you do with the rest of your life.
Dov Gordon